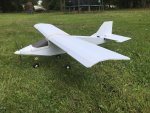 Introduction
About a year and a half ago I designed my first RC aircraft. A smaller high wing with a 28 inch wingspan. It was built with the intention to be a slower flying and stable trainer capable of most acrobatics. That was easily constructed with a minimum of foam board and 3D printed parts. It fell short in two categories. Firstly it was too fast, secondly it was a bit unstable. This instability resulted from its small size which I later learned is the reason most RC trainers are rather large. The solution was to scale it up by 70% to 48 inches. The result was a slower flying and rather stable airplane that is decently capable of acrobatics. Keep in mind this is a first prototype, as such it has a number of flaws to be addressed. I will post build plans, STL files and a build guide at some point after I finish the second prototype. That is if anyone is interested. At this point I will apologize for any spelling and grammar errors I have never been very eloquent with words. With that out of the way below are some pictures, videos and specifications.
Videos
Maiden Flight
I was a little too enthusiastic to maiden it as a result I flew in 15-25mph winds. I realized my mistake almost immediately as a result I spent the rest of the flight trying to land.
Fourth Flight
The only flight in relatively calm conditions to date.
Pictures
Pictures of the plane
Pictures of The Parts
Firewall, motor mount and cowling.
Skewer reinforcement disks, rubber band retainers and control horns.
Main gear receiver block.
Wing edge protectors.
Foam board parts.
Specifications
Wing span: 48in
Wing coord: 8in
Wing area: 384in2
Empty weight 20.23oz
Takeoff weight 26.4oz
Wing loading: 9.9oz./sq.ft
Max thrust: 34oz
Thrust to weight ratio: 1.28
Thrust angle: 3° down, 3° right
Dihedral: 3° total, 1.5° per wing
Components
Motor: Leopard Power 2830/12T 980KV Outrunner(I intend to make moter mounts for other brands.)
ESC: Sky Power 30A ESC with Switchmode BEC(Most 20+ amp ESCs with BEC should work.)
Battery: Venom 2200mah 3s 30c lipo
Propeller: APC 10x4.7SF
Receiver: Power Up RD710 2.4GHz DSM2 & DSMX Compatible 7 Channel Receiver(Any old 4 channel receiver should work.)
Servos: Emax 8g ES08D Digital Sub-Micro Servo
Build Guide and Downloads
Coming soonTM
Last edited: