Back in August 2016 I posted a thread which I never did a build thread for. See:-
https://forum.flitetest.com/index.php?threads/aussie-scratch-builds.29243/
Well almost 3 years later I have finally got around to doing the build thread. For those who only build in 5mm FB you can enlarge the plans and build a larger version and fit the motor of your choice.
The original Quick Trick was a Balsa 1/2A racer and I had a few motors that could supply the required 100Watts and so I built one, and then another, and then a few more. As it is a racer crashes tended to be fast and merciless and I was getting many back for fuselage repair. I also had a couple surrendered as being too fast and nimble for the recipients! I used the wing panels in another build the "Slick Trick". See:-
https://forum.flitetest.com/index.php?threads/collaborators-build-2-slick-trick.54111/
. This bird was a good warbird trainer and still provides that service in the hands of its few owners!
Anyway here is a pic of the Bird of this thread ready for Maiden.
A Pic of the bird flying
A link to a flight video!
https://drive.google.com/open?id=1nMCqzZqrGfQTdOLgapMtmU9FgyhaR4bn
My build will be for a far heavier ship than the original with a far heavier motor and larger battery. I am looking for those vertical climbs!
Specifications:
Wing Span: 790 mm
Overall Length: Just under 700 mm
Weight (Empty): Under 200 Grams
Motor: D2826/6 2200kV
ESC: 30A
Servos: 3.7 gram, 3 of.
Control functions: Ailerons, Elevator, Throttle.
Battery: Max recommended is 1300mA 3S 25C
Build:
The pieces all cut out!
The wing panels paired up
The wing panel pairs joined with packing tape
The wing LEs beveled
The wing panels scored to facilitate easier bending
The wing panels tested for uniformity against each other. Shows the wing span!
Spars fitted (Root view)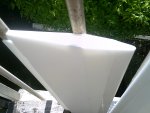 Spars fitted (Tip view)
Wing brace fitted (Paddle pop stick)
Wings joined
Fuselage folded and glued
Tail feathers attached
Wing joint taped and the wing test fitted in the fuselage
Servo lead access hole cut
Access door cut in wing upper surface and a 3.7 gram servo in position
Servo door closed
Rx located under the wing LE
Raw wing end cap fitted, (can be almost any shape) cut from scrap FB.
Wing end cap shaped to suit wing tip profile.
Elevator servo fitted and pushrod run through the rear of the fuselage
Fuselage rear deck fitted
Fuselage deck centre section fitted
Wing LE support pieces for the wing
THe hatch and forward deck piece
The plywood motor mount marked out
Motor mount piece with ventilation holes cut out
The motor mount locating pieces added, (made from scrap FB).
The hatch and forward deck fitted
Motor mount in position, (rear view)
Motor mount in position, (Front view)
Aileron horn and pushrod fitted, (typical).
Elevator control horn and pushrod fitted
Settings:
Ailerons: Throw +/- 4mm (caution this is a lot when going fast)
Expo: 40%
Elevator: Throw +/- 4mm (caution this is a lot when going fast)
Expo: 40%
If setting dual rate make low rate 80% of high rate.
Maiden video:
Post repair maiden, ( No camera for maiden,
threw a blade on second flight and no real flight time. lost blade caused sever imbalance and it destroyed the firewall)
https://drive.google.com/open?id=1nMCqzZqrGfQTdOLgapMtmU9FgyhaR4bn
Have fun!
Last edited: