So I've been looking at my bonepile and one of the things I pulled out was a old Eflite Blade CP helicopter. This was was the ready to fly version complete with a 6ch Transmitter.
I've been able to salvage the 9g servos. An integrated 3 in 1 Esc/gyro unit. A 72mhz 6ch reciever, and brushed park 370 motor and the tail rotor/motor/geared drive assembly. Also were able to salvage some various bits of small carbon fiber rod. I've played around with everything including disabling the gyro and connecting the esc up to my FrSky receiver and it all works. If also got an essentially new eflite heading hold gyro that was installed just moments before the career ending crash. It may end up in a FT3D build and maybe someday I can actually learn something other than a simple prop hover....
I'm thinking of some sort of small pusher wing utilizing the small tail rotor motor and the geared rotor assembly in a pusher configuration. It's clearly not going to have the thrust of a larger motor but it is extremely light. I've played with some 2s packs and I know a small 3s pack would give me a bit more thrust.
Anyway, here's some photos of the stuff as it stands so far and if I actually get going on this I will update the thread with what I come up with. Kind of just an experiment.
Just looking for ideas for a small pusher wing or light park flyer. If that idea doesn't work I'll move up to some thing with the larger motor likely will have to buy a geared prop adapter for it.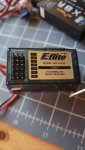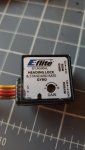 Unfortunately the 6 ch transmitter that is compatible with the receiver has hardware CCPM mixing built into it. So it is essentially useless.
Last edited: