Update: The sketchup plans are good, increased the length of the slot for the wing. Here are a couple photos of it taped together to test fit the parts.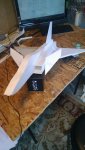 Been really kicking the idea of building a pusher jet. Started hunting around for three view drawings and found this as a good candidate
.
Started working it out in sketchup this is what I have so far
I plan on bulding out of both DTF and some 5/8 styrofoam I've been using covered in clear packing tape after sanding it to shape.
Last edited: