Build Log: Savage Bobber 45" – FT Bushwacker – TH Crack Turbo Beaver
First was this really cool Turbo Beaver fm Twisted Hobbies, like it's 3D ability but not it's durability. Got to scale it up and use better power systems.
Then FT came along with the Bushwacker, this is it... I thought. It does not 3D as good as the Beaver tho, but, this is what I wanted to build. But as soon as I saw the red bush plane early in the post, I started looking for what that is, and then discovered ...
The Savage Bobber.
I'm from S Texas and was afraid my planes would melt, started in discussion about glue sticks, a thread Nerdnic started. Still think I want to build out of permant materials, found these dowels at Hobby Lobby really cheap (29cents ea for 3/16x36"),and thought there has to be a good way to make use of these in a light wood frame build like dowel-n-frame. I was working on the Morane Saulnier and stopped because it was just too heavy ( fiberglass ).
The Bobber makes great use of the dowel idea, the back fuse is not covered but painted.
Starting out with the idea of making the front out of 1/8 lite ply, it's 576 inches weigh 538.5 grams(24x48x1/8inch), or almost 1 gram per sq inch. The side panel I cut out comes to only 26.3 grams. Don't pay too much for this Lite-Ply, get it at Amazon for $10/sheet. It was the FT bushwacker for a while until I found a poster describing how you had to put the battery all the way fwd, found a post of someone in RCGroups, Phaeton, built a beautiful Savage Cub of CF rod, nice but it's too tail heavy to fly, so after comparing fuses FT Bushwacker to Bobber, the Bobber is 2.5 inches longer, so I made mine 2 inches longer. You should get the WRX page in my gallery, it has great helps about scaling fm 3v dwgs, prop limits, battery voltages etc... I updated the prop limits info.
All earlier FT planes like Mustang have 9" chords, yall dropped it to 7", the Bobber is about 8.5", don't know why so short for BW, I kind of split diff n made mine an 8" fat Clark YM 15% foil using Profili, which is free but if you want all the capability, pay the programmer and open all the functions. Super prgm, all the airfoils you would want.
Power: This time I don't want to cut it even close or worry about pwr to W, so I'm planning on 2 to 2.5 # build and Cobra 2820/10turn/1170kv Io = 1.6A gives 57.5oz at 351W on 3s, that's 3.5 # thrust with an APC 10x6e prop. This should work out good.
I'm only using a side view as a plan, the sticks are only there as place holders for the impression, actual dimension will be figured later. The 4 lg horz runners will be 3/16" and bracers will be glue-tacked, then wrapped with fiberglass and thread then epoxied. The back end const will go good if mounted on a 2x4 following a center line. I'm just going to attach both ends and fill in the middle. The thrust line of the wing parallels the the center line too.
The next decision will be after cutting out both side panels, is the width, will 3 inches wide look good for this???
See the picture, the height is about what the FT BW is, but the length is the proportion of the Bobber.
The Bushwacker is about 3.5 inches wide. WS is 45" and chord is 8" and the dwg is full scale. I'll put up the 2 pics for panel print too.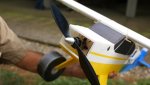 Now 3.6 oz and the inside is 3" wide
Since I chopped the height down a bit, I think this proportion may be right, I could not find a 3view or top picture of the Savage Bobber.
It would be nice to just hand the battery in that curved opening in the side, position between 4 low blocks on floor and strap down with a hair band on 2 hooks, they look tougher than rubber bands.
Now with the 4 fuse dowels on and trimmed, 4.4 oz.
I really am liking this build method, maybe do more like this ... Bleriot ....? Easy, tough, fast, and good looking.
These 3/16 dowels fm Hobby Lobby really seem strong enough to make a nice 32 inch DH2, keep in the truck to fly after work.
See how I glued them in the corner w/ epoxy and glass? Used rigid epoxy, Z-poxy.
Sure makes a smooth joint if you press a clear plastic bag over the curing joint then you can smooth it press it down w/out getting epoxy on your fingers ( get too much on you, and you could get sensitized to it ).
Just a good idea not applied the best but see how smooth, no sharp jagged protruding edges.
Easier way to get your pics fm ph 2 pc or pc to ph, I know the data xfer cable is faster, but this is faster, better more practical if you only have 1-5 photos to xfer... and you don't wear out the data connection on your phone by excessive use. Bluetooth transceiver.
Last edited: