I thought it would be fun to see where everyone does all his builds and modifications and repairs and all that kinds of stuff.
So I want this to be a thread you can just post a picture or even pictures of your working area and lets see who´s got the best after the Flite Test work bench, which probably unbeatalbe
So here is mine. It is a corner of my room. The actual work is done on my desk, which I use for homework after school, RC and laptop and all kinds of other stuff. That smaller desk in the corner is just a little table to put stuff on if I am too lazy to sort everything back.
As you can see everything is really tidy right know
That is just because after I finished my Event my room was sooo messy that my mum made me clear everything up.
Everything except the big wing and small Parkzone Sukhoi belongs to me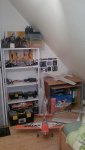 Im pretty excited to see your stations of passionate work