I drew out these plans and built the plane years ago. It would be great to see it transformed into a swappable.
Sadly my control layout was less than favorable and it took off slightly tail heavy. It is no longer around.
I love the Lazy Bee series, do not see it much these days.
This flies on all 4 channels, including a full flying rudder.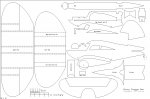 View attachment StaggerBee-20inch-v2.pdf
Last edited: