In general an EDF model of a conventional turbojet has to have oversize inlets and exhausts.
My idea was that if it could be built big & light with a small enough EDF scale ducts could be used.
The FD2 was a super sonic research delta that first flew in 1954. In 1957 it held the world speed record at 1132mph.
From my point of view it made a good subject because
a. A delta is strong and light for the wing area.
b. The exhaust had a distinct nozzle for supersonic flight so the total inlet area was actually bigger.
c. The fuselage was circular in section.
A nice 3 view to work from.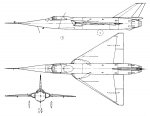 With a 55mm EDF it would come out at 32" span. Could I build it light enough to fly?