Greeting from Finland!
Long story long, I scratch built a Simple Storch wing (without the dihedral part) from measurements only... got it fairly close I think, eyeballed a fuselage and control surfaces, ordered a FlySky programmable transmitter and 10ch receiver and an 18€ bundle of motor, prop, and 30A esc off amazon (cheapest stuff I could find that still meet the specs), 2200mAh 3S from a local hobby shop, couldn't find anyone on amazon that would ship LiPos internationally.. and the wait was on for a calm day...
First takeoff from ground on ski gear resulted in about 30 second flight, but it had a massive tendency to yaw left (because of motor torque I think) so it got a bit of a rough landing, blowing the prop and tearing the ski gear off..
Not discouraged I added rudder trim tore off the remains of the broken landing gear, new prop, and hand launched, which went surprisingly smooth, aside from having no rudder response, or at least that's what it felt like.. in hindsight it might have been there I was just too impatient expecting the plane to respond immediately.. given the large wing span (1,5 meters) it was probably just a bit sluggish..
Anyhow I gave up on using the rudder control (too quickly probably) and tried flying with ailerons and elevator only, it worked for a while but seeing as I had amassed a grand total of 60 seconds stick time in my life I was bound to make some mistakes that resulted in nose meet ground.
I think what happened is I banked too hard trying to turn without enough airspeed and stalled, my ailreons had hardly any rates programmed in so they were quite touchy.. Had I spent more time adjusting the controls and understanding their strengths & weaknesses, and maybe flown a bit higher I would have been able to recover the stall and extend the flight time, but all in all I'm happy that my first scratch built plane ever actually flew for a while controlled by a newbie who never touched live sticks before.
A few pictures were taken of the glorious event, no video unfortunately.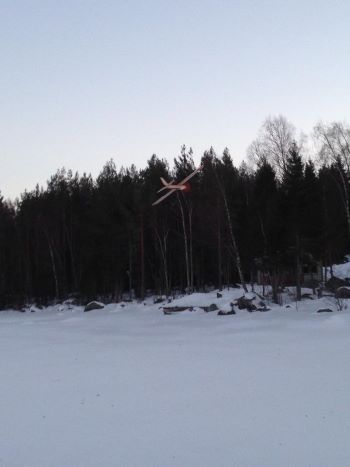 And the aftermath of the "landing"..