Builder Extraordinare
Mentor
For those who follow my YouTube channel You are in the know. So let me fill you in on this build and we will dive right in.
I picked up this mostly built Top Flite Red Box F8F Bearcat at SEFF 2018 for $75. Needs finishing and some love. With my recent hiatus due to selling my home, purchasing a new one and subsequent move, I've had to put off my P-51 build until next build season.
This kit went out of production years ago but I was fortunate to get this model along with it's original build plans. Thankfully, I could also source scans on the internet and print off a couple of copies for building things that need done. Originally constructed for a glow engine, the original builder also deviated from the plans by building out the tail control surfaces using solid wood. Since this is intended to be a quick build I had considered just rolling with them but the scale modeler in me was under distress as the ribs not being there would really bother me and I always try to save every ounce of weight in a tail. So, here is what I'm essentially starting with: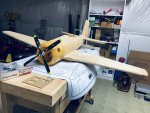 You can see that I've got a 4-blade prop on-hand that I intend to use for this project. There are holes in the original cowl that need to be fixed as well. This model has had a lot of sunlight exposure over the years, leading to yellowing of the canopy and plastic cowl. This also makes the plastic brittle. Rather than mess around with the canopy, I was able to source a new one from ParkFlyer Plastics for $7. No-brainer there. The cowl will be reinforced with fiberglass and epoxy on the inside and the holes filled with bondo. The cowl is exactly the same as the one Top Flite provided for their 60-size Corsair. The cylindrical profile is incorrect and there are accounts on the web from the original designer on how to modify the cowl to get the proper tapered shape. I'll cover that when I get there.
Pretty straightforward rescue build here. I'll build it out per the plans with retracts and flaps. As flight accounts reveal a fairly nasty tips stall at lower speeds, I intend to keep her nose-heavy and the flaps are a bit of insurance of lift on landing speeds. I am considering covering film on this one but as usual, I'm leaning toward the more complicated... fiberglass finish with paint. It's just more resilient in the summer sunshine but it usually leaves me wanting panel lines and rivets. I'm hoping I can resist that urge and just have a flying model that works and is stress-free.
I've started construction of the wing control surfaces. There were none built so cutting out templates from the printed plans, I've pulled out my scrap balsa stash and started construction on the ailerons.
Standard Top Flite construction technique used here. Nothing fancy or uncommon. I've done this same thing with the flaps. While there are no cross-section profiles for the flaps, I've left the leading edges of them flat and I'll be using some offset hinges that should work just fine and not require any further shaping.
Up next is re-making the elevators and rudder per the plans. I may get the cowl going with the glass just to give it some good cure time. As I'm unfamiliar with the temperature fluctuations and humidity content of my new basement workshop, It seems reasonable that I may end up with a learning curve on my fiberglass layups.
Chime in with comments and suggestions on parts you'd like me to cover in more detail. I'm super excited to be building again and sharing the build with the community is one of my favorite parts.