Trying to get her finished up tonight.
Built the wings - sorry, didn't take pics of the process but its basically the same as all my other wings (thin wing, single layer foamboard on the flat as a former, wood reinforcement trenched along the former - much the same as a nerdnic speed wing). The wing cutouts didn't 100% match the wing profile (a common problem I have) and I had to lengthen the cutout on one side to get the wing to push through. Placing the center seam of the wing join into this lengthened cutout gives the best chance to turn the wing into place.
Looks pretty good with the wing in...
Installed the EDF. The thrust tube runs on top of the horizontal stabilizer which is a single piece that goes through the fuse. As I said earlier, when scaling the plane, I made it a little larger (40 inch span) so that the EDF and thrust tube would fit. Although I like the size she is right now, it could be scaled down 10 - 20% if I used
@Sheriff
's approach and used a split HS - maybe next time. This would provide more thrust to weight.
Cut a hatch taking the front section of the canopy with it. This was a mistake and poor planning on my part. I think I should mark up and cut the hatch first and then install the canopy without gluing the rear portion - this way it would lift with the hatch.
Made up and installed a NACA duct.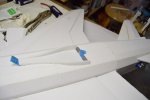 I tested this EDF on the thrust stand and could get approx 1200 grams with the 12 inch TT installed (note this was with 4 x 2200mAh 4S batteries in parallel and is therefore does not reflect what I would get on one battery which will be about 15% less - so about 1000 grams). Once installed in a closed fuse, this dropped to about 500 grams. With the canopy off, it came back to approx 900 grams and with canopy on and NACA duct installed, it was about 850 grams. So still losing a lot and could probably do with more cheater holes.
Anyway - will install the control horns and rods and some velcro to hold the batteries and we should be good to go for tomorrow morning.