Hi all,
wanted to share my experiance on this topic:
I've added the FrSky V8HT Module to my Futaba FX18 transmitter. By using a switch I'm now able to use both 2,4gHz and 35mHz. I know this is nothing new but maybe someone also wants to do this and might need a little help...
Here is a scematic drawing of what i did: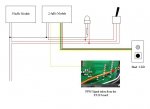 So long, have fun!
Gregor