What's everyone's take on this? I guess the options here are:
use the ESC's built in BEC
Use an OPTO ESC and a separate BEC
use an OPTO ESC and a separate receiver battery
So far on my electric planes I've only used the BEC that's built into my ECS's. Mainly b/c until now my largest electric has a 63" span and flies on 4s with only four servos. I'm now building an 8ft. Senior Telemaster that's going to be electric, that's why I ask. I think most people follow a rough guideline like this... use the ESC's BEC for smaller planes, park fliers, etc. and for, say .60 and larger size planes, use a separate BEC or an rx battery.
I have a 80a 5v ESC for the Telemaster so it can handle the five analog servos I'm going to use but most likely b/c of the size of the plane (safety reasons) and the expense of a larger plane I'll probably go with a dedicated rx battery that way if the ESC fries, I can still have control of the plane.
Here's a couple photos of ESC failures just this week at one of the local clubs.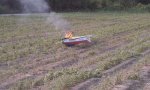 Chime in people!