Here is my 85% Master Series P-47 Bubbletop. 85% because the full sized ones are too awkward for me to hand launch from a wheelchair. Powered by this great motor from Valuehobby.com.
http://www.valuehobby.com/gforce-e450-1200kv-motor.html
Finished in airbrushed acrylic with homemade markings using MS Paint and white printable vinyl. The nose checks are resized from a P-47 paper model. This is the first FT type foamie I have built where I used a monokote sealing iron to seal the edges of the flight surfaces. Makes a huge difference in how it looks and I'm sure will make it much more durable.
Really flies great with a 2200mah 3S.
Michael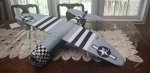 Last edited: