Hi all,
I want to show you my little Swede:
There are some small modifications to the original design.
I made the wing in three pieces because my Foamboard isn't long enough for the wing halves.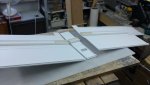 I cut 40 mm from each halve plan and made a centerpiece of 80 mm.
The elevator got beefed up by a piece of barbeque skewer in the bevel cut.
The greenhouse got 3D. The fuselage is 80 mm wide now.
One Multiplex plug is for all 4 servos. (cold fingers mod)
Later insulated by low temp hot glue.
The long struts are kinked to make them a bit softer.
landing gear fairings are mandatory.
Windows are made from household vinyl.
Aircraft marking are printed with colour laser printer on ordinary office paper.
I made a border in aircraft colour for ease of application.
I used Planatol Elasta for application.
Some little touches of colour here and there and my little swede can fly.