After I built the Depron ducted prop Skyray I wanted to take the 'big but light' concept some what further.
In terms of wing span the Bachem Natter is just about as extreme as a manned plane could get.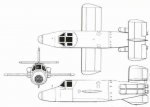 Amazingly it was built of wood.
As I don't have a scale Walter rocket engine or Schmidding boosters it was going to use a pusher prop hence I have put this thread in 'Warbirds' rather than EDF.
The objective was to see if I could get a true scale version to fly so no cheating with extra span or anything!
I selected a span of just 26" but even so the fuselage was going to enormous, 8" deep, 6" wide and 39" long.
There certainly wasn't going to be a space problem inside!
The original fuselage was built in 3 sections. I copied this as it makes each a bit more manageable.
First the fuselage formers. Only the first and last are 'solid' all the rest are just 'rings'.
Rather unusually each fuselage section is built vertically.
Very 'wobbly' to start with! The planks are added symmetrically to each side to keep it true and square.
The completed centre section.
Not much inside, in fact you can get you whole arm in, very useful when fitting it out!
Amazingly rigid and light it weighs just 1/2oz.