Moving right along, here's the mostly-finished wing. It still needs the servo mounted, color accents added on top & bottom, and a few other little tweaks. Overall, it's now looking MUCH better than before I started!
The top is very bare looking without the trim colors. I'm debating adding the swoopy diamond pattern the original covering had - it'll be a pain to do and I'm not sure the effort is worth the result.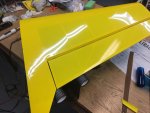 I was asked about the rest of the plane's condition. The other wing is in good shape, although the covering is pretty beat. That'll be an easy task, getting it fixed up. The rest of the fuselage, however.... not so much.
Here's the worse stabilizer & elevator. The hinges don't allow free movement and the structure has at least two known breaks. The elevator is salvageable (although I'll know for sure once covering is removed) but the stabilizer is toast and will get re-built completely. Both surfaces are flat so that task should be easy enough. I'm not sure what to expect when I try to remove it from the fuselage, however. But that'll be a task for a later date.
The rudder is also in OK-ish shape, although it was installed with no gap between it and the top edge of the vertical stabilizer, so it rubs heavily. The bottom edge above the tail wheel is also a bit boogered up, and as long as the edge with the hinges isn't too terrible I can just fix up the original piece and re-cover it. For those playing along at home, to the right of the picture is a 1/4 scale Clipped Wing Taylorcraft project, to the left is a 1/3 scale Sopwith Pup project, and below is a 1/3 scale L-19 Bird Dog project. I've got my work cut out for me!