That is not a typo it really is 1121 so what was that?
The answer - it was started but never completed being cancelled by the infamous 1957 white paper
This is the full scale mock up that Hawker built.
Impressive -a sort of Supersonic Mach 2 Hunter.
So I set about building one out of Depron with a 4.5" ducted prop like my Skyray.
The fuselage was built in 3 sections each as a half shell with formers.
But only clad internally to create the duct.
Note the reinforced double former to carry the spar round the duct.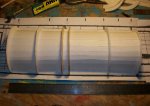 To make maximum use of the available space the duct changes section down the fuselage.
The wing has no ribs just a spar and 4 spacers.
The completed fuselage - minus the outer skin. To supplement the chin duct two cheat holes were added in the position of the rocket hatchs just behind the cockpit.
The all flying tail would also be an elevon so no ailerons.
I did wonder if I could even finish it let alone that it might fly.
Last edited: