Contest thread...
http://forum.flitetest.com/showthread.php?4445-CONTEST!!!!-Build-a-STOL-Bush-Plane
Poor Old Fogey will be converted into a Bush Plane.
Very important a new namepatch.
Powerpod comes from Baby Blender
Sofisticated electronics.
Looks speedy
Ailerons inserted
Shrinkwrap method
Fast and tidy
Hotglue and tape
Not to pull the cable out of the gyro
Not pressing the cables
Beefing up the landing gear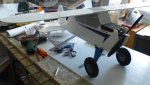 Bushwheels on
Ready to go!
Will it fly?
Werner