Building Fool-Flying Noob
A little while back I stumbled upon a build video for a flying wing called The fury and his company out of the UK I believe.
And I went on to the website and so they have a small 30-in version and a larger looks like 50 or 60 inch version. And in true form, I thought I can make that out of Dollar tree foam board.
This first version will be a direct replica of the original. What I like about this aircraft is its shape it reminds me of two Maple seed pods glued together at their base. So as per my normal form I use the top down view to create a plan form and from that I created a plan set involving two sheets more or less a foam board.
When I had the plans I managed to mount them and I think a few weeks ago cut out the shapes.
And this past Friday I was able to start assembling them. The construction is similar to an ft aero except it's a more molded airfoil shape. I debate whether or not I want to make it a power pod style fuse. But for now, I think it will remain a braced firewall.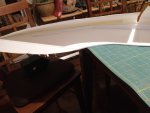 The plan is to power it with a f pack on a 1300 mAh 3S with a 20 amp ESC.
I think I still have the PDF. But the pans are straight forward.
Currently I am trying to confirm the CG.