Get complete plans here :
http://rcfbaircraft.my-free.website/
I will start by posting pictures of my drawings and the plans. These are new and things may have to be adjusted.
Engine and retract Mount first.
Red = Cut out line.
Blue Dashed = Cut 50% and hollow out.
Green = Crease lines.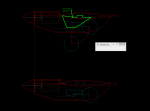 Folded out, I hope it works. I guess I should cut one out and test it.
Note : The retract mounts are glued in place after the engine nacelles and wing are glues together.
Last edited: