Administrator
Staff member
Admin
Moderator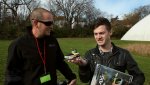 The Heli-Max AXE 100 CP is available as a RTF (ready to fly) and TX-R (transmitter-ready) version.
The RTF model includes a 6-Channel 2.4GHz transmitter with 10-model memory, 5-point pitch curve, exponential, digital trims, and adjustable gyro sensitivity.
​
You'll receive a fully assembled AXE 100 features the TAGS (Triple Axis Gyro Stabilization), installed receiver, motor, servos, (2) 3.7v 200mAh LiPo batteries, AC LiPo charger, spare blades, linkage, and tail rotor.
​
The TX-R model includes an installed SLT receiver, motor, servos along with the fully assembled AXE 100 CP. Purchasing an additional AnyLink 2.4GHz Radio Adapter to adapter this helicopter to any controller.
The TAGS (Triple Axis Gyro Stabilization) system offers protection from outside forces and adds to stability when performing standard flight or aerobatics.
The flybarless design helps this AXE 100 CP helicopter perform great in small places and maneuver indoors as well as outdoors.
​
This is a fun radio controlled helicopter!
Thanks again to Hobbico for sending this out for us to review! To find out more about this helicopter check out the link below:
​
Heli-Max AXE 100 CP - Flybarless Electric Helicopter
AnyLink Radio Adapter