InstaMorph is a revolutionary new moldable plastic. As soon as I became aware of this stuff I had to have it! I bought the biggest container they sold...
I was very excited to find my first project. Fortunately I just crashed my Multiplex Twinstar II. This plane has definitely seen better days. However I was not ready to decommission her just yet.
The rear main wing attachment was a proprietary component made of plastic. There are a number of ways I could fix this. But this particular job seemed to be perfect for InstaMorph!
InstaMorph is activated by heat. The instructions call for putting InstaMorph into a cup of 140 degree water for 2 minutes.
I heated a Christmas Mickey Mouse mug of water in the microwave.
I made a video to show the molding process:
All done!!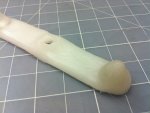 I added a piece of masking tape overtop of the finished piece to protect it from the sun. I have flown the Twinstar II multiple times since this repair... seems to be working just fine.
See the article on FliteTest.com here:
http://flitetest.com/articles/InstaMorph_R/C_Plane_Repair
Last edited: