I'm working up a slightly modified FT Long EZ. I want to use a KFm-2 wing to give it a little more lift than the plank wing. The KFm-2 description calls for making the step 9% thickness at 50% Chord. Question is; 50% of the wing alone or 50% including the Aileron? The step looks kind of short to me but I've never used one before so I thought I'd ask.
I also think the fuselage is a little pudgy so I'm reducing the profile to the prototypes vertical dimensions, but that's only about a half inch overall.
If you look close you can see that a lot of the paper is delaminating, especially in the corners and thin areas. I've never had foam board come apart so easily, is this common ?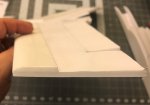 Thanks,
Dave