Hey guys,
I wanted to start a thread about my experience with simulators VS real FPV flying.
In a nut shell I have always stayed away from SIMs because I never felt that they really had much benefit to me personally.
The main use I saw for simulators was for teaching beginners the basics of RC flight and FPV quadcopter stick movements, as far as a skill building pro level pilot tool for ultimate ball rippage.. no
BUT recently I have been trying these updated and now very realistic FPV simulators. My Favorite at the moment is Velocidrone. velocidrone seems to capture some of the inharent inconsistencies found the the real world that other simulators have lacked in the past.
There are two reasons you would run a simulator in my eyes.
A.) A beginner learning the basics of FPV stick control and or an intermediate pilot just looking for more stick time when it's cold or dark.
B.) You are a moderate to advanced pilot that wants to try new tricks or maneuvers.
With those two reasons stated we can delve into the principle that make FPV or any real world simulation so helpful.
as you know there are real world simulators for everything, and the main goal of these Sims is to be able to emulate real world conditions and then push skills and or equipment to their limits. In our case we want to push our skills. so how do we do this.
it all comes down to a very complex yet simple thought (We want the simulator to feel real and we want the real world to be perfect.) like the simulator. haha
So to elaborate on that thought. I want my real quads to fly like they are in the perfect world no external forces
e.g no wind, perfect video, infinity battery, infinity RC link, HD quality video downlink, etc, and when set up correctly I can get my setups to be darn close. Now with simulators they are setup to be a perfect world. So we have to try to make the sim feel as realistic as possible aka simulating real world physics with each drone that we fly. EVERY ONE FEEL DIFFERENT.
I am a huge advocate of getting a formula that works and mastering it. that doesn't mean I can't fly other drones really well.. but it does mean I know my rig with its exact weight and frame geometry like the back of my hand. This kind of connection with an aircraft gives an extreme feeling of control and connection. Basically you feel one with the aircraft.
now I am going to share with you my setup numbers to make velocidrone feel as close to my real quad as possible.
now my real quad being the 5" Alien with Kiss gear, Mr Steele motor's HQ 5x4x3x3V1S PC etc....
Velovidrone Setup
Aircraft - Lil Bastard
Camera Angle - 25-30 degrees
Camera FOV - 106 degrees 1.8mm
Physics Setup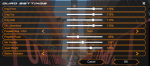 PIDS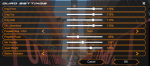 And comparing that to my actual setup PIDS
Mr Steele 5" Alien
_ Kwad Gear _
- Mr Steele Alien 5"
- Mr Steele PDB
- TBS Mr Steele Motors V1
- KISS FC V1
- KISS 24A ( D shot 600 )
- HQ 5X4.3X3V1S PC(Pink/Green)
- Runcam Swift 2 (camera tilt 25°)
- TBS Triumph CP antenna
- TBS Unify Pro 800mW VTx
- ThunderPowerRC Adrenaline Series Brick edition 1300
- GoPro Session5
- ALL UP WEIGHT - 576g -
- Steele
Last edited: