I just got back from a trip to DC and the
Smithsonian Air and Space Museum
. It is AMAZING and we didn't even get to see the
Udvar Hazy Center
. Next time. As an aviation buff it was an absolutely amazing experience. If you EVER have the means to visit you really should and it's free. I'm going to be coming back as soon as I can.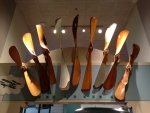 Early Jets
German Schwalbe and Lockheed XP-80 Shooting Star
There is an atrium full of UAVs
DarkStar
RQ-2A Pioneer
Shadow 200
Predator
J-UCAS
Dragon Eye (I'll post photos from my other camera soon) This display even had their field gear box that looked oddly similar to any RC flyer's.
Aircraft carrier room that contained
Boeing F4B-4
Grumman F4F (Folded wings)
SBD-6 Dauntless (minus torpedo)
A-4C Skyhawk (Brought back memories of the TA-4J's I grew up with in Texas)
P-51D Mustang. I love the nose art "Willit Run?"
More photos to come.