I've had very little time lately, but this weekend I managed to fly between storms for an hour. I noticed my ESC was getting a bit hot so I decided to open it up, i.e., take the heat shrink off. I've never looked inside one so I was surprised to see the huge heat sink on the side.
I like these blades:
Alright, I just took off the heatshrink on the flat side:
Or all of it...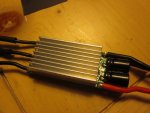 And put it on the outside of your plane:
It keeps it nice and cool. Look at Hobbyking, they have stick on heat sinks for the flat ones.