I have always loved the F-104 and built a series of balsa designs about a year ago, but never really got any of them to fly to my satisfaction. Recently, I built a couple of 3D printed planes and decided to try and design an F-104 for LW PLA. Because of the weight of 3D printed designs, an 80mm EDF was about the smallest I could do and achieve the kind of performance I was looking for. The first test was last weekend, but the plane over rotated on takeoff and crashed. Following repairs, I had a successful flight this weekend although I went a bit too far in the other direction and had far too little elevator authority resulting in a hard landing that damaged the gear. When I started this project, I did not know if it would be even remotely successful, but I'm pretty confident now that next time I get to fly, everything will be dialed in as I want it, so I figured now was the time to post. I can post STL files if anyone wants them, but they were a learning experience and are not anything like as streamlined as those commercially available. I chose to fiberglass my plane, but it should not need it and otherwise only two carbon fiber rods are required (1x 10mm and 1x 3mm).
Some specs
Length: 67"
Wingspan: 31" + 4" from tip tanks
Flying Weight: 3.403 kg
Power system: FMS 80mm w/ 100 A ESC
Battery: 5000 mAh 6s
Top Speed: 140 mph designed (clocked at 106 mph during the one flight performed at about 70-80% throttle and without trying for speed passes)
Needless to say, this plane is quite a handful in the air, but it is surprisingly stable for what it is. I did not think to ask someone to video during the flight, but I should get video next time I fly it (hopefully next weekend).
The F-104 after the failed maiden last weekend.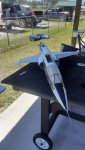 And some building pictures.