I got some micro RC parts in the mail and got distracted from my Caudron build for a few days...I built a 7" version of this back in 2006, it was one of the first micros I did that I really thought looked the part and loved the design ever since. This one came in with a 6.5" span and a current AUW of 5.1 grams. Its a hair under powered at the moment, but that will change tomorrow when I swap out the long can 4mm direct drive motor with a short can 4mm with gearbox and balsa 2.25" prop.
Formers and spine were done with 1/16" balsa, bottom wing and tail feathers are 1/32, top wing and fuselage skin is 1/64"...never used 1/64 (.015" / .4mm) before, but its really nice, no more sanding down 1/32! RX is a .35g 3 channel unit, rudder controlled via an in-hinge actuator that I converted to a remote actuator, battery is a 30mah.
A few quick test flights this evening shows it'll fly just fine once it gets a bit more power, looking to use a bit of wood stain to give it some color, but need to go get some first. LG is temporary as its just extra weight and I dont usually do rolling take offs, plus its in the way of the battery as it is now, so they'd have to move to the wings.
Nick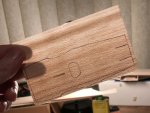 edit: put a different gearbox in it and she flew great!
Last edited: