Rather than the normal paper-skinned foamboard (which I'll get the next time I'm in Dollar Tree, the nearest is 100 miles), at our local closing-forever Shopko I bought a bunch of plastic-skinned foamboard, images printed on one side and glossy orange on the other. I am now testing the FT foamboard building techniques to see which are usable as-is and which need to be modified.
The first thing I noticed was when I cut half way through and bent it, the uncut sheeting cracked (whether scored or not). This raised some issues regarding the thoroughly demonstrated building techniques. Paper (sheeting) hinges are out, as this sheeting material is more like styrene (whether it actually is or not). I'll have to do it as tape hinges or glue in actual hinges. Test bending (A,B and C) folds is out, as this willl crack at the fold. Peeling one side of sheeting... I'm not sure yet but it looks like it'll be difficult.
Gluing I found will help against the cracking bends, the heat from the glue softens the sheeting until it cools. Where some planes have a spar made by half-cutting the foam and gluing it folded back (there's no fold name for this like for the A, B & C?), I'll have to see if a bead of glue on the fold will soften it enough to fold tight or just let it crack and the glue holds it alone. I haven't tested the bonds yet but when I do get around to actually building planes, if I am gluing the shiny side, I'll scuff it up first with sandpaper, like roughing up the side of servos to glue them.
Here I made up a wing segment from the Simple Cub plans to test these methods (not the hinges yet). Is the trailing edge really that thick, or did I misread the plans?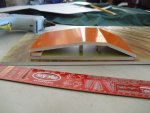 Having no paper, I think this board should work nicely for anything that might see use on water (floats, sea planes, actual boats, etc.) or fly in rainy weather (nobody
ever
does that, do they?
). The glossy side should also slide nicely on snow.
Last edited: