Drinker of coffee, Maker of things
Mentor
This is a little project i started working on over a year ago. Just playing around in a cg calculator looking for interesting silhouettes. It was going to require a little bit of "messing around" with my windyhillhobbies cnc cutter as it has much greater than 45 degree sweep. After doing pretty much everything i can pre design in inkscape i finally started working on it a few weeks ago. Ill update here as i work on stuff. Pure Sloper but with some LEDS in the back. This is something fpv wing guys have been doing for a while but i havent seen anybody sloping with cool leds yet.
To deal with the extreme sweep of the center section i "buried" it inside a shape i could cut out and than cut it out of that shape. It doesnt match the airfoil of the connecting pieces, but i can hide this with some sanding and spackle later.
I needed some way to attach the vertical fins in back and wanted some kind of "jet booster" kind of thing to hold some automobile led break lights. Still playing around with the size and shape. But this will allow me to attach the fins with nylon screws into the wood.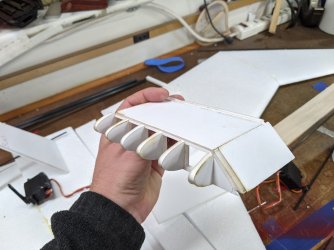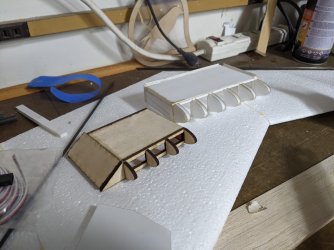 Went back and forth looking at spar options. In the end i decided on an I-beam of 2mm fiberglass kite rods with some carbon fiber rods here and there. Fortunately i remembered to put in the servo and led light wiring i needed before gluing them in.