I have started on a Dornier 335 build with the goal of using two swappable pods in a push-pull configuration.
I used a three view drawing and scaled it up to have around a 42" wingspan. There are some pictures of what I have below. Some of the bigger challanges were, how do I make plans, and how do I get the parts right. So far I have used posterboard to get the plans right, then cut it out on foam board. The ohter challenge is how to get the elevator to work, and how to get the fuselage to connect, because it is longer than 30" (fuselage will be 42"). I am putting this on here and I will hopefully have some sort of plans eventually. I have kept all the templates for my build and will try and draw them digitally sometime. Here are some pictures.
For those of you thinking about making your own plane. I would reccomend drawing the wing out on posterboard, then fold it along the leading edge to get the shape of your wing bottom. I mostly did this to avoid a bunch of math. This is also very helpful with swept wings to get the angle right.
Initial Drawing
Ok, I've done some more work, I believe the wings will be put together shortly. I am going with the same amouunt of dihedral as the FT Spitfire since that seems to work well. Here is a pic of the turtle deck pieces on the back section the fuselage next to a spitfire.
I joined the wings to the fuselage today. That was tough. I used an inaccurate measuring system and had to adjust quite a bit. It ended up being ok, it's just like the spitfire, now I just need to put in the spacers and BBQ skewers
Started Painting the bottom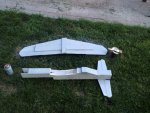 Elevator and rudder servos go on soon.
Elevator and rudder on with servos. Bottom rudder to go.
I finished the skin and the paint today. I think I'm going to leave it without markings so far. I might do some Iron Crosses, but that is about it.
Here it is all done, I setup the elevator rudder, aileron and motors today. All of it works!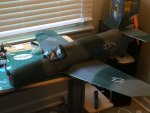 Last edited: