Drinker of coffee, Maker of things
Mentor
So a few years ago i watched David's hot wire cutting video on the Viggen, but never considered that it would be possible to do something similar myself. Fast forward and i have now hot cut a few things myself and gained some confidence. As i was looking for a new project i came across the 3 view above and noticed that the main wing of the F-100 looked almost identical to a fpv flying wing with center section. Knowing that i could make a flying wing fly and that this was the main lift of this jet, i decided to give it a go.
Not wanting to start from scratch i searched thru online plan databases and found this free plan for a balsa build. I Modified it slightly in Inkscape. Upscaling it to around 69" nose to tail and modifying the wing so it has less sweep, deeper wingtips and slightly increased wingspan over scale. I rounded it up and got the wingspan around 70". The idea was to give it more wing area and more stable slow flight. Combined with a modified clark Y airfoil i am hoping that it will have have much nicer slow flying. Did i mention no landing gear? Yeah....Slow flying needed for launch.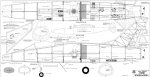 I ordered full size plans from Staples online. I cut out the "firewalls", glued them to doorskin plywood, and cut out the templates using a scroll saw. On the plans i marked out the distance of foam i will need in between each firewall and the distance off the table the templates need to be as it tapers up to the nose and tail. As this will be a pusher and not edf the inside of the plane didn't matter, but i did add a tunnel for access to parts, routing of wires, and airflow.
The foam i am using is from Home Depot. It is 2" thick 4x8 solid insulation. Although i do have some factory edge pieces most of the foam i had was scraps from other planes so a lot of time was spent getting a nice straight edge, cutting pieces into squares and gluing together. Lots and Lots of layers and gorrilla glue. 69" divided by 2" plus a few 1" pieces here and there...so boring.
After the pieces were glued together i would adjust if needed. For instance if a section needed to be 5.5" i would cut 1/2 an inch off. I would than mark the center all around and if needed how far up the template needed to be off the table. After a section would be cut i would than glue multiple sections together as in the 4th pic below.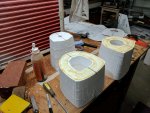 to be continued.......