Hello everyone!
I was lucky enough to get my hands on one of these power pack combos about a week or so after they showed up on the Vlog. I finally got the rest of my parts last week and gave my hand at designing a frame. Here's the results:
I've never printed in anything but PLA. I actually decided to try out some Ninjaflex Armadillo. It came out a bit more bendy than I planned, but still pretty stiff and very durable.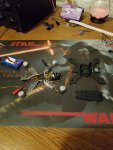 Here we're all wired up with Cam, vTx, OSD, and XM+ receiver. So tiny!
And here's the finished gremlin:
89.9g AUW
Since taking that pic I've had to go back in and move the signal wire for motor 4 and remap in betaflight, since it conflicts with LED resource when using dshot. Figured that I needed to do that last night, so I've only had a little flight time with it. The punch out is insane!!!!
This is technically my first drone. Well second if you count the monster with 12" props that was driven by an unholy marriage of an arduino and a wii sensor that I was not so gentle with. But that one didn't fly so I'm counting this as numero uno.
I've been researching mini and micro drones since December, itching to get in the air. Definitely well worth the wait!