FT Tiny Glider (Tiny Trainer Mod) - Picture update
So I guess my story is similar to many:
I was fascinated by flight as a kid but could never afford the costs of balsa builds, 4 channel radios and gas engines. Fast forward 15yrs and I discover Flitetest.
I decided that before I jump in and start spending on new electronics I would try and make use of an old Sanwa Dash Saber 2channel Tx/Rx out of an old RC sailing boat.
With no 3rd channel I am limited to a glider, and living in small apartment, a sub 1m wingspan seemed sensible.
I toyed with trying nerdnic's DLG beta plans, or coming up with an Alula clone of some kind (additional on board mixing required there of course) but settled on the tiny trainer as my base airframe.
So I ordered a new 27mhz micro receiver from an RC car store (£8) and two Hobby king 4.5g servos. I looked into lipo batteries / chargers etc but I settled on a 4 x AAA battery case from maplin (£1) The electronics including battery came out at 80g in weight.
Rather than build the TT with the glider nose I thought I would make efforts to streamline the plans a little to save weight and end up with a dedicated 2 channel glider configuration. I also decided to do a 1 piece wing rather than have the central join - this can just about be achieved with UK foam board dimensions of 841x594mm. So the key differences with the TT plans are:
Longer nose - to allow battery to go further forward if required for CG
Slimmer one piece fuselage (turns out a bit to slim to get the servos in easily!)
One piece wing - ease of construction - strength benefit maybe ?
The plans are attached here - but obviously when I started building the prototype I found some issues that could do with revising. We have heavy foamboard in the UK so I stripped off some paper where I could. The airframe ended up at about 100g - so all up weight including 80g electronics is under 200g and balances perfectly using the battery pack.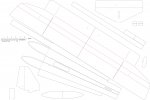 Will post photo's of the finished build and a few comments later - possibly even a maiden video - although I actually need to find somewhere to chuck it now, which is not so easy in London !
Photo update of build:
Impatiently chose to maiden her in the tiny park next to my place - with no where near enough space and too much wind - I have never flown anything before but It was a buzz and she seemed to glide pretty well .....right into a tree trunk...
Need to rethink the fuse design as the nose just buckled and eventually sheered off after 4 or 5 "landings" of varying severity.
Last edited: