http://www.liveleak.com/view?i=ac3_1435080329
What an idiot! I hope the pilot is caught and prosecuted! There is no excuse for this stupidity!
I return and land as soon as I think there may be traffic in my area, and I don't fly over 400'!
There are near misses reported constantly to the FAA by commercial pilots, now we have this idiot!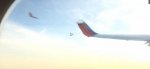 COME ON PEOPLE!!!!
I hope everyone will voice their outrage publicly as this irresponsible person disregarded common sense and everyone's safety.
PLEASE!!!! Go to
http://knowbeforeyoufly.org/
as part of your preflight and include someone that is unfamiliar with this hobby and educate a stranger!!
Justin