Ok, so today I flew my Tricopter in a public school that's close to my house. I had to display the tricopter's flight mechanism to some kids, so I did my favorite maneuver - powerlifts. Yup, I made the name up, just nail your throttle up, take the tricopter up 50 feet, and then take it slowly back down. The best part with the powerlifts is probably the initial surprise factor. You fly your tricopter to make it look like it can barely fly, then BOOM a powerlift, or a powerkick - made that up too, same thing but forward. So I did bout 5 minutes of flying, was doing my 6th powerlift when something happens - the Left motor pulls out of it's mount. I was at about 15 feet high up, when the motor jumped out, hit the prop to the arm, and the tricopter immediately lost control. I chopped the throttle, which has a significant impact on how you crash, but it was already to late as the tricopter was tipping over. If you chop the throttle immediately, your tricopter might not flip over - if it does flip over, it will kill the board and destroy the motors.
My crash was extremely unlucky. Cause the aluminum tube on the tricopter hit the motor perfectly where the windings go out - chopping a bunch of wires after crushing through the epoxy. So now I have to get some money, buy a spare DT750, hope that they are in stock, and wait till it gets here. Time to fly my Bixler again.
Other damage included a smashed prop, dented aluminum tube, dented battery, and broken yaw mech. The latter is certainly no reason to cry, as the break-away mechanism I made with hotglue worked perfectly and the servo is still intact.
Damaged winding:
Damaged motor cables: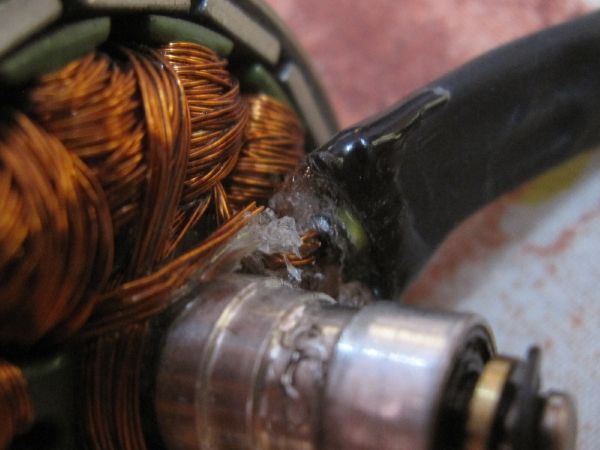 Dent in the aluminum from the crash:
Smashed prop: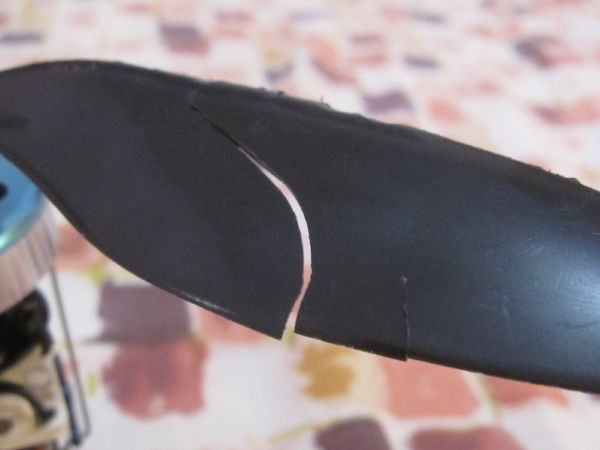 Yaw mech unglued:
Puffed LiPo:
The reason for it all:
Cheap me didn't want to spend on threadlock - cost me a motor.