Ok, I'm sure you're wondering - how does it happen that someone's not sure they crashed???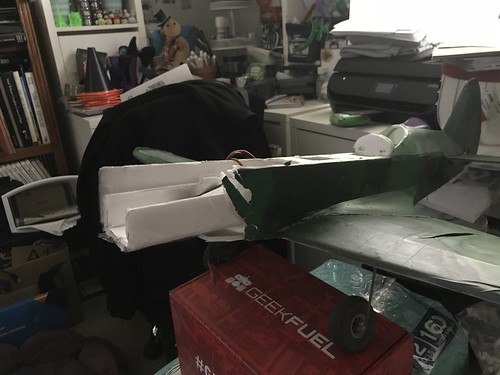 This is what's left of my MIG-3.
I was flying today at the field, made a sharp bank to bring it back over the runway and NOT over the pits, when I start hearing a noise that sounds like a lawnmower, and I see foam flying off of my plane. I immediately realized that the canopy/battery cover had come off, so I immediately called out, "LANDING!" and brought it down on the runway in a perfect touchdown.
I then tried to taxi over to the pilot's box, and realized my plane wasn't going ANYWHERE. That's when I noticed that the motor had been completely sheared off of the front of the plane, taking the side of the fuselage with it. People started helping me search, but the motor was lost to the weeds and "the jungle", a mass of trees, swampy marshy area, greenery, etc. Everything else - the ESC, receiver, servos, battery, etc., were all perfectly fine!!!
Our pro 3D pilots just looked and went, "Dang! That was one helluva landing! No motor, and you brought it in perfect!!! How does THAT happen when the thing isn't balanced???"
"Pure, dumb luck, I guess."
It was the coolest "death" of a foam plane I've seen yet - one of the other guys at the field actually had his Trojan behind me a ways, and it looked for all the world like he'd shot me down, with how it "exploded" in foam pieces. My dad asked if I was upset, and I just said, "Heck no! That was an AWESOME...shoot, do I call it a crash??? I didn't crash land it, but I don't know where the canopy and motor went; they crashed somewhere on the hill!!!"