STOL Contest page is here...
http://forum.flitetest.com/showthread.php?4445-CONTEST!!!!-Build-a-STOL-Bush-Plane
Why S**L?
Because I don't to take-offs so its just S for short landing!
This is entirely experimental with a low chance of success.
4 motors, counter rotating props, massive double section flaps, drooping ailerons and all made of Depron.
The 30" wing under construction with 5 servos (2 aileron 3 flaps).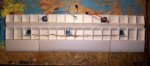 With the motors and ESCs in the wing there is a lot of wiring.
It is real spaghetti by the time it gets to the centre.
Front and rear views of the completed plane.
Big wing end plates fitted.
[video=vimeo;40979593]https://vimeo.com/40979593[/video]
It weighs just under 16oz ready to go with 24oz thrust.
[video=vimeo;41044580]https://vimeo.com/41044580[/video]
Its one and only flight with just a few degrees of flap set.
[video=vimeo;41523028]https://vimeo.com/41523028[/video]
The wreckage!
Rebuilt with just two motors.
Painted yellow it did make several flights but still very poor control with full flap. The wreckage!
Motors and electronics salvaged, airframe scrapped!
2 of the motors used in a push/pull configuration on a new fuselage and using an existing 40" flapped wing made of Depron
And this actually works!
[video=vimeo;43558151]https://vimeo.com/43558151[/video]
And you can't get a landing much shorter than that.
Without a take off it can't really be part of the STOL challenge.
Last edited: