After a bit of a wait, Motion RC released the Rotorscale 450 PNP helicopters a few days ago. I've been testing them out for a while now with and messing around with some customization. The helis are already mechanically set up, with motor/servos/ESC included and the Roban 450 sized fuselages. The mechanics are a clone of the Trex 450 SEV2. All you need to do is add your FBL of choice and go. They are also planning on offering 3D printed parts, and multiblade heads as optional upgrades.
Bottom line, these are a great value for the cost, and will offer a ton of customization, as well a long awaited source for 450 fuselages and parts. Here are a few photos of various mods I've been running an ikon2 in my AS350 with all stock servos and motor. I did switch over to a HobbyWing Platinum V4 ESC for the active freewheeling capability. This allowed me to lower the head speed so that I could run a 3 blade scale head. Also used the main rotor blades from the 470 size AS-350 in this setup.
Here are a few photos of my first round at giving the stock chopper some detail. Added on the basket, snowshoes, exhaust, wire cutters, and mirror kits.
The basket made built of a brass frame, with screen door mesh glued to the brass. Thin brass rods were also bent and soldered to make the mirror kits. The snowshoes were made of styrene. I believe most of these parts, as well as a few others, will be available as 3D printed upgrades in the future
After flying it this way for a few weeks, I had an incident that was entirely my fault, and decided to rebuild the heli with a different scheme. On the Hirobo 3 blade head, I forgot to Loctite on of the spindle bolts, and it shot a blade off during ground run (luckily!). ALWAYS remember to double check those Loctite joints!! Anyways, the damage from the other 2 blades cut through the canopy and boom.
However, with some fiberglass cloth and high build primer, it was repaired and upgraded! I replaced the tinted windscreen with a clear windshield and repainted in the scheme of one of the OK City police choppers. Still need to add the searchlight and FLIR, but it turned out great, and really flies fantastic! It's had over 6 months of incident free flying after triple checking those Loctite joints!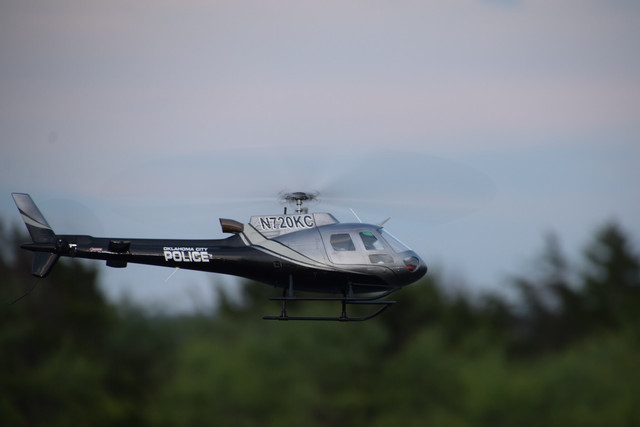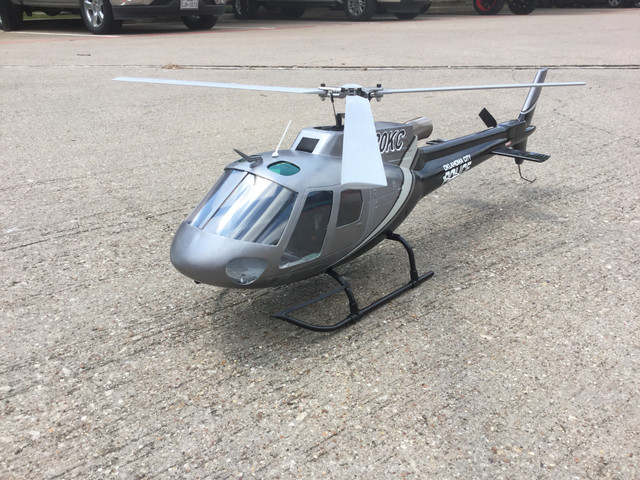 Last edited: