I'm still in the process of building and finishing a sea duck with removable wing and i'm very happy with this plane so i have decided to share this "journey" with you, happy modelers community.
First of all, i'm far away from most of you guys because i live in France close to "le mont saint michel".
Here, it is not easy to buy decent light foamboard so most of my builds are depron based.
I have ordered a big box from flitetest store with 2 FT kits (edge 540 and sea duck) to get the smell of the original and now famous FT brown foamboard ;-) OMG, i paid it twice thanks to shipping and customs costs
I have build the edge and give the sea duck to a friend to have a buddy to fly with on water.
Decided to build my Sea Duck from scratch at my taste to compare the weight and flight caracteristics with the original FB sea duck.
As i wanted it durable, i used some heavier materials : depron, kraft paper, carbon fiber spars, fiberglass + epoxy resin and covering film.
The second more important aspect of this build is that i wanted the plane to fit on the ceiling of my car so that i can bring it with the family during the weekends or holiday trips.
First of all, i printed the tiled plan, glue the sheets together, sprayed super77, paste it on 4mm depron, cut it, built the wing mostly the same way as on the FT build video
The bare depron wing is 115g where the FT foam board kit wing is 202g but the depron is way weaker at this stage...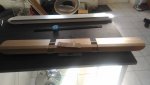 Last edited: