Some time ago I posted a photo on the FliteTest Facebook page about trying to make a smoke system for any electric plane. It can't be liquid fuel - as it's either too big or too expensive. But there is a relatively cheap solution: homemade smoke bombs.
So I started off doing the research. I learned that you use sugar and potassium nitrate to make homemade smoke bombs, and that they are relatively efficient.
Now potassium nitrate (KNO[SUB]3[/SUB]) doesn't sound like something you can get over the counter. Well I can. But for you in other places, look in your gardening department for stump remover - which is said to be 99% KNO[SUB]3[/SUB].
Now I tried several different methods proposed on the web, and they didn't quite work out. I tried it dry, compacted, molten together, packed into a big carton, tin can, etc. Nothing nice. Turns out I was using powdered sugar to make my mix - and I always got remains of the sugar as all of it didn't burn. Sometimes molten sugar turned off the reaction.
Here are the failed attempts with powdered sugar - also contained in aluminum foil.
But I finally got a successful formula. This time I used grain sugar - and a yellowish type, meaning it hasn't been whitened with chemicals (which also means it's healthier). I used 5 tablespoons of KNO[SUB]3 a[/SUB]nd 5 tablespoons of sugar.
First get your ingredients and the mold ready. Use a tall tin can and a wooden stick if you don't want to clean up when you're done.
Now put just enough water to cover the bottom of the tin can. Turn the heat up high, let it boil.
Pour in the sugar and turn the heat down. Start stirring.
When the sugar has dissolved, pour in the KNO[SUB]3 [/SUB]into the tin can. From now on watch your heat.
Stir, keep stirring. Don't let the sugar burn.
Keep it on low heat until the water has evaporated and you have a paste that is about as thick as ketchup.
Turn off the heat and pour the stuff into the mold. Try not to mess around with it too much, try to get it right on the first pass. Don't make layers of the stuff as it'll get brittle.
Let it cool.
Take it out of the mold.
Light a small piece on fire outside and check the result!
The thing should burn and sound like a match head. And produce a grayish white smoke. The smoke isn't toxic, but don't go breathing it all day long.
So why does it work? This is what happens: Sugar is combustible, but only at high temperatures. It also needs more oxygen than the air can provide. So we use potassium nitrate which has 3 atoms of oxygen in it to give it the oxygen supply it needs. Potassium and Nitrogen are also quite reactive and burn nicely. The smoke is basically burnt sugar.
---------------------------------------------------
To apply these concepts into a plane, we need to think of our needs.
We need to have smoke that lasts for more than a minute.
We need to have relatively thick smoke.
We need to mount the smoke on the plane.
We need to protect the plane from the heat.
So first - we need to have long-lasting smoke. This is done by making the mixture into a long stick - my mixture burnt at an average rate of 5-10 seconds per centimeter (15-25 seconds per inch). So a nice 10 cm bar will burn for about 50 - 100 seconds, which sounds great for me.
Then how much smoke do we need? The amount of smoke is determined by how much you burn at the time. If you start at the middle of the bar, it will burn toward the edges - double the smoke in half the time. So we need do determine the thickness of our bar in the balance between effectiveness and weight. My experience suggests that about 1 - 1.5 cm diameter should be enough smoke.
Now we need to mount the bar on the plane. My super idea for this is to put a piece of piano wire into the bar - making a way to mount it and something to strengthen it as well. Piano wire can be easily stuck into a piece of plywood taped to a wing.
Now we don't want hot sugar ashes on our nice and clean plane. So we just mount it far out on our wingtips, behind the wing. Shouldn't be a problem. Otherwise, two layers of aluminum foil will also work.
SAFETY
My dad watching me make my smoke, neighbors are paranoid: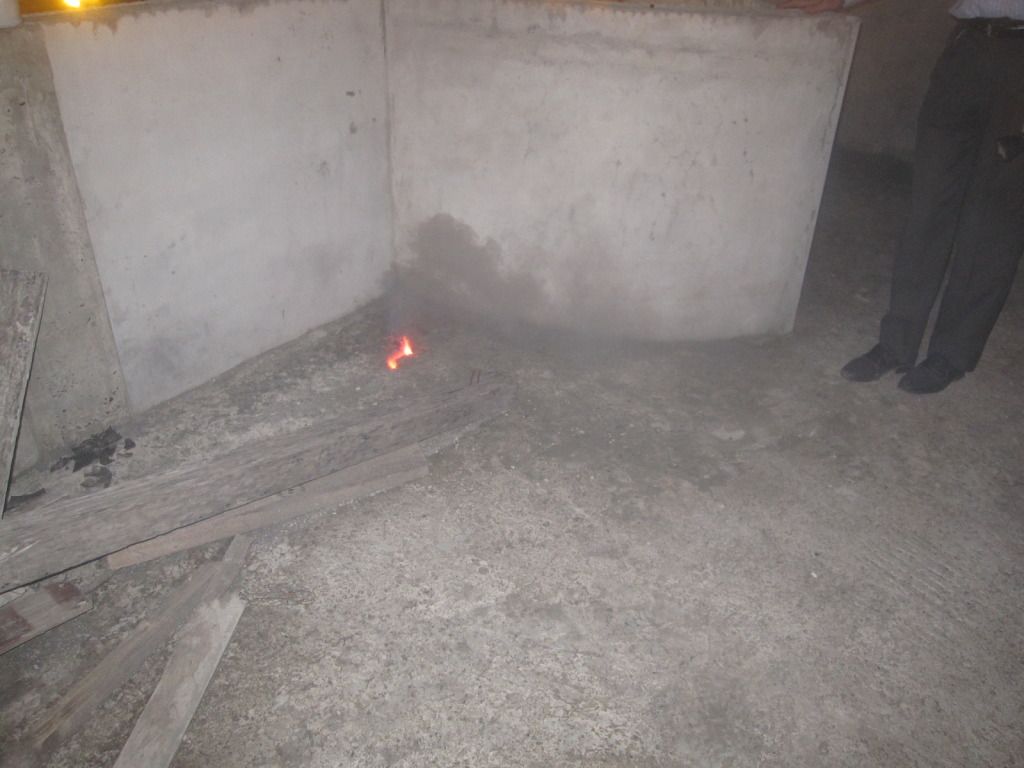 I'm not responsible for the uses you give to this information. Etc etc etc.
Be careful. When this mix burns it burns hotter than a matchstick, and probably hotter than a soldering gun. While the flame isn't longer than half your thumb, it can still catch anything on fire pretty quick. Be sure you know how to control a model with this kind of stuff. If you crash, report to the crash site immediately to stop any fires.
The stuff is relatively safe away from fire. Keep it in a cold, cool place as it is sugar and warmth makes it messy. It's hard to get it on fire, but it's also hard to stop it. CO2 EXTINGUISHERS WON'T WORK directly on the paste - the oxygen is contained in the potassium nitrate, so you need a bucket of water to turn the stuff off. However, an extinguisher can put out a fire initiated by a smoke system mishap, so keep one handy.
The flame can and will spew hot ashes as it burns. While this isn't a problem in the air, as the ashes cool down quickly as they fall, it can be a problem for hand-launched planes. So use a fuse if you want, this will make it safer. I can't get hold of fuses here, so I have to light them directly.
Notice the size of the fire - compared to the KeyRing LED flashlight. Also notice the black pieces of ash that spewed from it.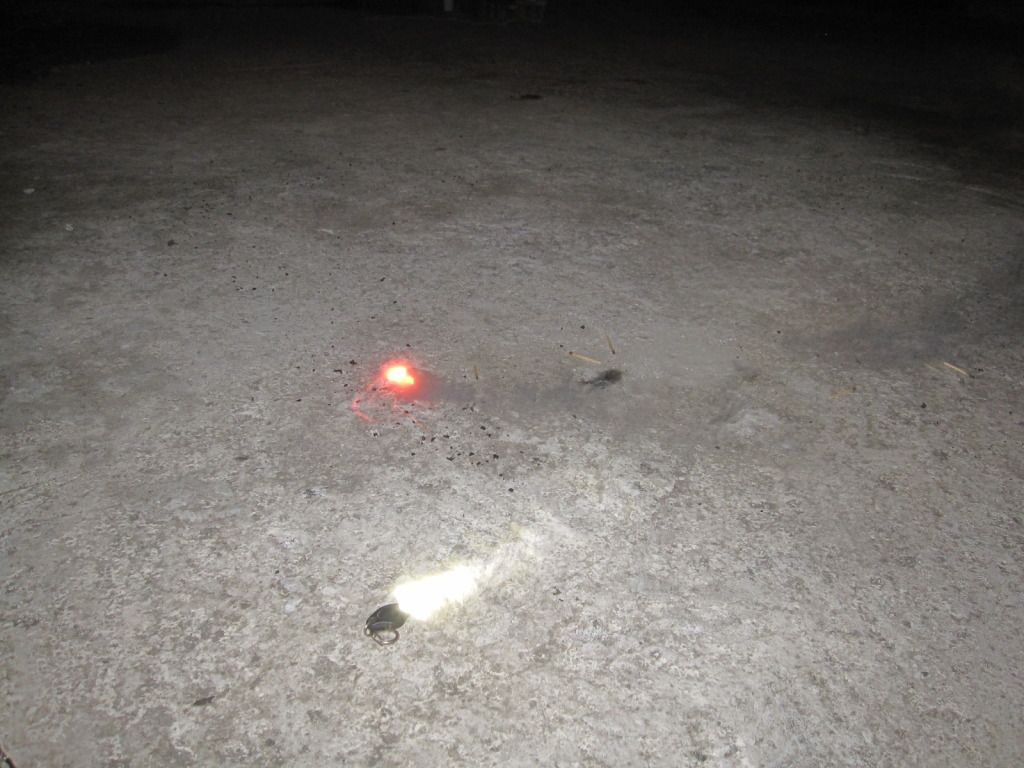 I haven't gotten to make the final application for the plane yet - but I will. When I do, I'll post an article about it.
I hope you enjoy and learn from this. I did.