I was inspired by the buildthread for the Longshot 4 DLG and I promised I will do a buildthread for my new ships when they arrive. I never did a buildthread so hopefully it will be usefull to anyone and I will try to make some pictures during building. No promises though!
Anyway the first one arrived today and its called Snipe!
Its a beautiful DLG well manifactured by Vladimir in the Ukraine (
http://f3j.in.ua/
). ( I am not affiliated with them in any way...)
It costs about 700 euro. And it comes supplied with almost everything (Wing Bags and Weights cost extra).
I know that this might be a tad expensive for some people and in the flitetest forums are more cheap foamies and self built planes, but maybe this will be interesting for some people. And someone might see some new techniques whatsoever.
For the tail there were 2 metal screws supplied I will replace them with nylon screws to save some weight. And the supplied strings for the tail are well I dunno what they are nylon maybe (?) but I will replace them with 0.09 guitar strings.
For Servos I'm going with D47 (Tail) and DES427BB (Aileron) or maybe DES 281BB (Tail) and DES 427BB (ail) has to be decided and depends on where the CG will end up. It will be powered by a 1s Lipo 750 mah from HK and I'll be using telemetry.
Now its picture time:
(If anyone wants to see something in detail feel free to request it!)
Wing and fuse
Wing
Shiny Wing
Tail set
And now the most important thing weights: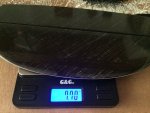 Last edited: