EDIT: 1/25/2020. I'm updating the first posts to include a new balsa kit manufacturer, which is doing a fantastic job at getting people into building with balsa. Other misc. changes will be done as well.
EDIT: 6-30-19. During the following posts I mention Mountain Models a number of times as being a good source for a first kit. Until further notice I no longer suggest buying from them. They are trying to sell the company and have had very poor shipping recently.
On with the show!
We've all seen "the question" come up numerous times on RC forums, FaceBook groups, etc. "
I want to build my first balsa plane, what kit should I get?
" Personally, I get all giddy at the thought of converting somebody from foam to balsa because I enjoy it so much
and they're simply missing out on all the fun
! The goal with these posts is to help lay down a plan for somebody new to balsa that will help them achieve successful flight with their first balsa build. Regardless of how that first planes looks, the goal is for it to
FLY
. Even if it doesn't fly well, even if it is a bit warped, even if the covering is wrinkled, none of that matters as much as getting a successful flight! You can worry about all those issues on the next build.
Getting back to "the question", how do you respond to that seemingly simple question from somebody enthusiastic to jump right in? A common answer is "Buy a
Sig Four Star
" (nothing against that kit, it looks like it would be a lot of fun and it doesn't look too difficult, but I see that same answer online regularly). While it
can
be built as the first build, it doesn't give the new builder the best chances for ultimate success. To really jump in and get a taste of balsa the kit should be inexpensive, approachable, easy to build, FAST to build, and offer little chance of error.
Consider what kind of experience the new builder will get from taking your advice. Are you setting them up for success or for failure? Building your first balsa plane is drastically different than assembling your first foam ARF. Special tools are required, more space is often mandatory, different skills come into play, and patience is truly a virtue. There is also a learning curve, so don't set somebody up to be discouraged! Look at all the half-built planes available at swap meets (or in my basement
). Getting stuck and discouraged half-way into a build is an easy way to drive somebody right back into the waiting arms of foam.
By now, the astute readers may be asking themselves what my qualifications are to answer one of the most important questions of our time. Well... I've got a computer, internet access, and an opinion. These days that's all it takes to be an expert!
Honestly, I'll freely admit that I've only been in the hobby for less than 10 years, and actively balsa building most of that time. I'm not an expert builder, but after decades of work in sales, having been a corporate trainer and also a licensed teacher I've got a good idea what motivates / demotivates people and how to lay out a plan for success.
Back on topic, balsa opens up a lot of freedom to build what you want, not just what is available as a foam ARF. I would be remiss if I didn't mention what people can do with carving and shaping of the larger foam blocks, but that is a different topic worth investigating.
HERE
is a build that will give you a great idea of what can be done with thick foam. This is a skill that is ABSOLUTELY worth developing as each building media has advantages and you can combine both materials in a plane. But that's another topic for a later date.
Regarding the Sig Four Star example mentioned above, while it's not a difficult kit I don't think it's the best option for the first-time builder. Let's face it, the world is in "instant gratification" mode and most balsa kits on the market require some work and a little skill. The average attention span is now... hey, look at the kitten! It's sad when the good intentions of building a plane end up like this collecting dust in the basement for years, until the kit is eventually thrown away, sold for pennies at a swap meet, or given to somebody else to finish.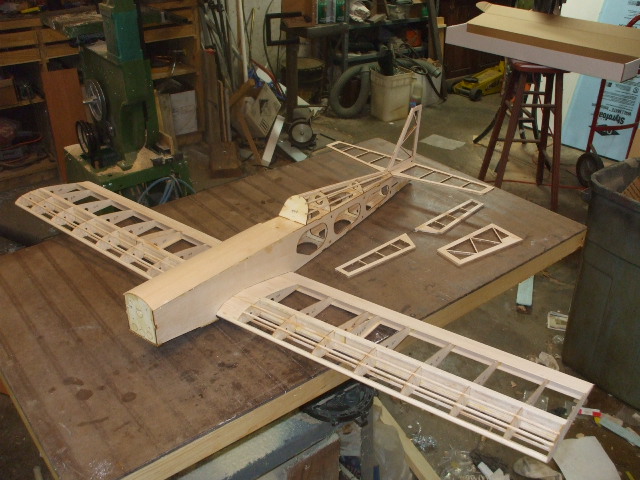 That's money lost, time wasted, and the enthusiasm for balsa is gone. However, put that same kit into the hands of somebody who has built a few kits and there is a MUCH higher chance of success. Why? Because the builder has acquired the knowledge and skills to complete the job. He's got the tools to get it done and understands the steps needed. Anybody who has seen what many companies consider "instructions" these days will agree that the best instructions are GOOD, the average instructions are BARELY OK, and the instructions with the cheapest Chinese kits are GARBAGE.
In my opinion, building with balsa is like taking a long journey that may never end. You pick up skills, tools, and knowledge along that journey that can open many doors in this hobby. But it's a journey of learning and it's very difficult to skip over the basics and go right to the advanced part of the journey. Basically, if you can't build an easy kit like this:
You shouldn't even think about building this:
And when you've got the skills to build something like that, you can build just about anything! Seriously, isn't that plane is flippin' gorgeous?!
Time to light this candle!
To keep things simple and somewhat focused we need to lay some groundwork. This thread isn't meant to tell people how to fly, how to program their transmitter, or even charge their batteries. We're going to skip over a whole lot of these topics and work on the assumption that the new balsa builder has flight experience. For all those other topics you're on your own!
The biggest hurdle for the NEW builder goes back to that original question and finding the right plane to start with. Especially for somebody who has some flying skills, this is going to be a tough pill to swallow, but
DON'T DON'T DON'T
start off planning to build that cool scale warbird with retracts and scale interior you saw at the flying field! That's known as a "recipe for disaster".
Pick up a kit from a well-known company that is known for quality laser cutting who sells kits
friendly for the first build
.
Herr
,
Laines Planes
,
Willy Nillies
, and other companies come to mind. Stick with a good quality laser cut kit over a die-cut kit for the first build, they tend to be less work. And PLEASE don't be suckered in by a low price
kit
from Chinese sellers! These kits are cheap, but they're cheap for a reason! Spending more for a good kit will save you more time and effort than you can imagine, and the good kit also substantially increases the odds you'll finish your first balsa build. One of the best options I've seen for that first kit is something from Willy Nillies - they can provide everything but the receiver, and the prices are very good.
With balsa, the better kits not only build more easily, but there are often many fanboys out there willing to answer questions that come up. I've built a bunch of "good" kits and also too many of the Chinese kits, so I'm speaking from experience. I'll add some links to my build threads below and you can see what I mean regarding the quality and price. With the first build, simply find something simple and
build it for the experience
. Even if you only fly it a few times and then pirate the electronics for a different plane you've still learned a lot, which is crucial to balsa building. Don't look at it as wasting money,
you're buying experience
.
There is another thing I see fairly regularly which would be better to avoid if possible - altering the kit design, modifying the project, or "kit-bashing", as it's called. It's very common for balsa builders to make changes in the kit's design. Maybe you're changing from a gas/glow plane to electric, changing from a tail-dragger to tricycle gear, adding flaps, etc. Either way, these changes can ramp up complexity as well as the structural integrity of the plane quite quickly. Using an electric motor instead of gas engine may not seem like a big deal, but figure that you'll need to add a battery try, access to the battery, ESC, cooling for both, the components may lead to issues with balance, etc. It all adds up, so ideally find the first plane or two with a design you can live with and
get that experience
.
Over the next few posts I'll lay out details on what it takes to build a fairly simple balsa kit - the tools and supplies. Most RC fliers have many of the tools already, but there are specialty tools that come into play when you get into balsa. The more advanced build you take on, the more advanced tools you'll need to succeed. This first kit, however, only needs a few items 'cause you're smart and following my plan.
Last edited: