Fly yes... land no.
Admin
The other week I needed some parts from HK and saw the new
Turnigy HD ActionCam
had been released.
From reading I learned it is simply a SJ4000 which HK slapped a sticker onto.
Still had been looking to buy a lighter flight camera for some time.
I know the GoPros are the cats meow and I love my 960 but I don't have $400 laying about and even if I did I'd be buying more batteries for my planes and tricopter.
Recently I decided to do a quick test between my various cameras.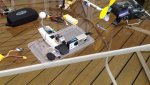 Comparing the 5 cameras I fly with.
#1
GoPro HD HERO 960
#2
Turnigy HD ActionCam
#3
FatShark PilotHD 720p 30fps HD FPV Camera
#4
HD Wing Camera 1280x720p 30fps 5MP CMOS
#5
Turnigy KeyChain Camera
(Audio is from the GoPro)
The ActionCam is in close to factory settings which may explain the colour tone differences.
The GoPro 960 still has the best field of view but the new ActionCam has a rear display, is light and you can't complain about the price.
A little on-board footage.
Next time I'll try and do a 1080 test with both cameras on the Tricopter.
I did order a spare battery with the ActionCam as you never know how long these items will be stocked.
After a little checking and according to FoxOffer who sell the
micro-usb cable
.
If the camera has the firmware of N201405270ZV01 video out via the micro USB port is possible.
My camera does have the N201405270ZV01 firmware.
I plan on sacrificing my own cable and testing this.
If it works out I'll have a slightly lighter camera to FPV from.
Last edited: