Building Fool-Flying Noob
Foam Wonder
The "NOOB"
Based on the original balsa wood design by Bruce Tharpe
NOOB Wonder concept inspired by Matthew Allen and Joseph Webb
Foam Board Conversion by:
Dan Sponholz
Plans by:
Dan Sponholz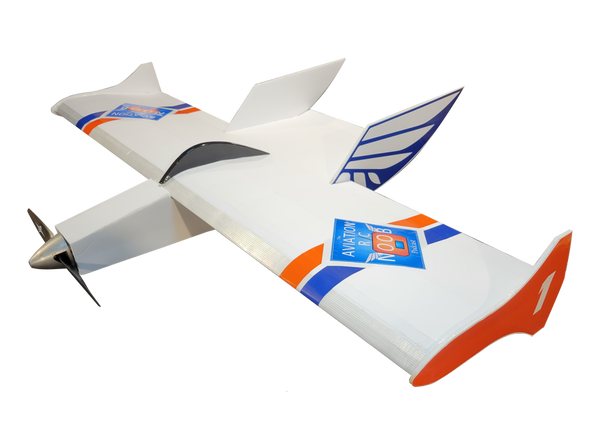 ​
The Sig Wonder is a classic balsa wood and plywood, gas powered model that was designed by Bruce Tharpe in the early 90's and kitted by Sig Manufacturing. Many veteran modelers and RC pilots are familiar with this classic design. My goal in designing the foam board, electric version of the classic Wonder is to introduce this aircraft to a new generation of modelers, and re-introduce it to veteran modelers in a new, modernized, foam board, electric variant. If you like this model, please consider supporting Sig and purchasing and building the original balsa kit:
Sig Wonder Kit
I have made every attempt to make this foam board conversion as true to the original Wonder as possible. The wing span, wing area, and control surfaces are very close to the original design.
While the balsa and foam board versions look very similar in appearance, there are a few significant differences. First, the original version has a bolt on style wing. I attempted many early prototypes with a rubber band wing mount, but due to the position of the horizontal stabilizer to the trailing edge of the wing, it was an awkward and ugly solution. I wanted to keep the build cost as low as possible using simple common materials, so I opted to permanently attach the wing. Second, with the wing permanently attached, I needed to add a battery hatch. In order to maintain the proper center of gravity, the battery hatch needed to be on the bottom of the aircraft. Third, while I did maintain the original symmetrical airfoil, to be able to maintain the wing tip shape I opted to use an under cambered wing tip common on many Flite Test designs. It also utilizes the faceted fold-over style foam board wing. And finally, with the change to the lighter foam board medium and all electric power system, the all-up-weight and wing loading are significantly reduced.
Specifications:
3D Printed Accessories:
Firewall:
https://forum.flitetest.com/index.php?resources/standard-swappable-firewall.294/
Control Horn:
https://forum.flitetest.com/index.php?resources/short-control-horn.293/
Battery Tray (optional):
https://forum.flitetest.com/index.php?resources/foam-wonder-battery-tray.342/
Servo Mount (optional):
https://forum.flitetest.com/index.php?resources/servo-mount-single-9g.296/
Please Rate and Share:
If you download, build and enjoy this model, please do me a favor and rate this resource and share some photos and videos.

Thanks
-SP0NZ
Graphics:
Foam Wonder "NOOB" Graphics
1.0
SPEED BUILD KITS:
NOOB Wonder Kits are No Longer on Pre-order! Go order your own:
https://www.thehangarrc.com/product/the-noob-wonder/
Flight Video:
Build Video
(with flight footage)
Last edited: