With the weather getting colder where I live I'm starting to stack my design and build projects. I have an idea for a way to finish and detail a dollar store foam warbird. However it doesn't lend itself to David's awesome spitfire. So I'm taking on designing a P51-D swappable airframe. There are several great P51 designs on here but I've always wanted an accurate laminar wing profile that is very noticeable in the 'D' Mustangs. One of the other drivers for me to design a Mustang airframe is the very distinctive war paint that the Mustangs really demonstrate. Everything from their tail colors, nose colors/patterns, and invasion stripes really tell a complex story for each mustang and I hope to share some of that history over the course of this design/build log.
To start with, here's some inspirational Mustang images via Google: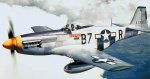 And "Willit Run?" from my visit to the Smithsonian Air and Space Museum this year
Some great photo galleries of Mustangs.
Flickr
Flickr
Flickr
Flickr
So to start with I'm taking inspiration from both David's spitfire design as well as his FT Racer (Ripslinger) design. In the first round I pulled in reference to SketchUp like I usually do and started blocking in the major forms. It's interesting that the horizontal stabilizer is set clear forward from the vertical stabilizer. This is in major contrast to aircraft like the Vought Corsair who's Horiz. Stab. is set far behind the Vert. Stab.
I'm using the undercamber wingtip design and I'd like to keep the bottom smooth and enclosed. I may design the lower panel under the nose to be able to fold down to allow the insertion and connection of the power pod with some latching system to secure it for flight.
The ridge you see running along the top is not going to be in the final design, I'm using it as a reference pattern to try and get the correct profile. I'll update as I make progress.