Bat Bone V-Tail Build and Flight Log
The Build: Batbone V-Tail Quad
The Experience: None
The Build Stage: Building
The Purpose: Aerial FPV video
The Budget: To my wife... as little as possible, otherwise... Budget? Where I'm going we dont need budgets...
The AirFrame:
Bat Bone Tri 370 Kit
Straight Motor Mount
V-Tail Quad Motor Mounts
Landing Gear Conversion Kit
Original Tricopter Camera Mount Kit
Props are
9047
/
9047R
in the front and
8045
/
8045R
in the rear.
The Electronics:
KK2.1 Flight Control Board
NTM Prop Drive 28-26a 1200kv Motors
NTM Accessory Pack
Afro 20Amp ESC w/SimonK
Turnigy 220mAh 40C Battery
XT60 to 3.5mm X4
Turnigy 9x Radio from Ebay... Warning>>>Mine Came FROM SHANGHI
The future:
Gopro
Eagletree Vector FPV
Long Range FPV - Undecided
Long Range Trans - Undecided
Video View - Fat Shark?
Ground Station - Undecided
Gimbal - Tarot?
Bigger battery - Undecided
Other Goals: NO Soldering
... this goal has been met with these parts all of the shelf.
Some Pics: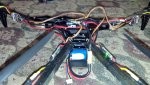 I will continue to add to this log, I will post more pics and video from the 70D when I get more time...
Am I posting this in the right place?
Questions? Please ask
Suggestions? Please offer
-=unZapped=-
Last edited: