Electric flying actually goes back a long way (Col Taplin converted a Radio queen to electric in 1954) but it was rather specialised and even more expensive than the then substantial cost of IC engines and RC equipment!
Like many young lads in that era I learned to build and fly (poorly) simple rubber powered models but living in the UK suitable days of weather condition for such lightweights were few and far between - and they still are!
At about that time the first of the cheap small lightweight Japanese (Mabuchi) motors appeared but without suitable batteries any form of electric free flight was no nearer. The only solution available to my budget was to fly electric was 'round the pole' and space limitation required short (6 foot!) lines as well which in turn meant the planes would have to be small and light.
Initial experiments did get things to fly but using 12 Volts on 3 Volt motors meant they did not last long. With the motors weighing more than the rest of the air frame it was not long before some form of elevator control was considered beneficial.
As a DC motor requires two wires why not make them act as 'control lines' as well.
With such short lines this required the control line mechanism to be operated from outside the flying circle.
The result of elevator and fully variable power allowed quite a range of lightweight 'balsa and tissue' planes to fly 'control line'.
A peanut scale Andreason A4b.
A slightly bigger Keil Kraft Fairy Gannet
A free lance transport 'twin'.
A sort of Liberator.
All the above direct drive with home made balsa props.
In fact control line RTP proved to be a very 'gentle' form of flying so even super light air frames could survive.
The rise of slot cars meant that small (1oz) powerful 12 V motors became available and suitably geared they could generate several ounces of thrust.
A true scale 20" Sopwith Pup.
The wing section is scale so the cotton rigging is fully functional. The geared motor drives a scale carved balsa prop. It weighs just 2 oz and the motor accounts for 1 of that!
It flew well enough but that thin under cambered wing section meant that like the original any stall was to be avoided.
With lessons learned next was Fokker Triplane built to the same scale it has (I still have it 45 years on!) an 18" span.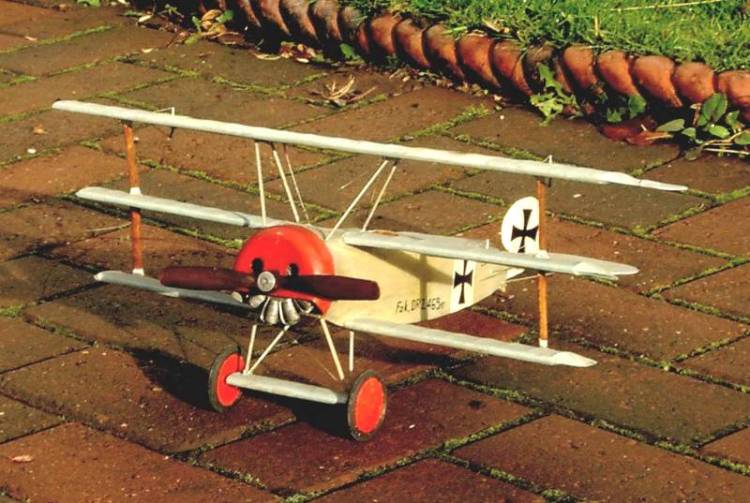 With its 'horse shoe' cowl the scale engine is rather more visible so it goes round with the prop!
To be continued!
Last edited: