Administrator
Staff member
Admin
Moderator


Build plans:

View attachment FT Old Fogey details 1of4.pdf
View attachment FT Old Fogey Fuse Plans 2of4.pdf
View attachment FT Old Fogey Landing Gear 3of4.pdf
View attachment FT Old Fogey Wing Plans 4of4.pdf
Detailed build video for the power pod (swappable fuselage) available here:
http://youtu.be/aMeGqVGZcjA?t=2m11s
TIP for printing the plans:
To print "tiled" use
Adobe Reader X
and in the print dialog select "POSTER", select "Cut Marks" and make sure "Tile Scale" is 100%. Then overlap and tape as required (after trimming the top overlapping edge).
(Thanks youtuber
larrybarrick
for this suggestion!)
The FT Old Fogey (old timer) scratch built foam board airplane is another addition to the Flite Test Swappable Fuselage Series!
Start with the wing and be sure to note that the wing tip will have a slight curve cut in it. This will create the polyhedral angle in the wing when you glue it.
Use the small triangles as a template for your leading edge angle.
Be sure there are not gaps in your wing tips when you glue them.
When glueing on the second wing tip, have your Swedish friend measure the height of the first tip (from the table) and make sure it's the same.
Chad has a cool tip for creating stronger hinges. Simply spread hot glue into the foam area of your crease and allow to cool. This will create a rubber-like hinge and help keep your paper from tearing.
This plane is primarily going to use B-style folds. Where the sides will push against the bottom plate. Be sure to watch the plans for when you will be setting up the A or B folds.
When cutting out your old timer, make all the straight cuts first then go back to cut out the smaller notches.
The servo tray will be using an A-style fold where the sides will sit on the bottom plate. The power pod is an A-style fold design, in case there's any confusion.
Run your push rods through some tubing or straws and be sure to glue them so there's no binding on your servos.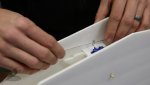 Run your push rods through the slot in the back to your control horns.
Another cool trick to mount your wheels is to wrap hot glue around the end of the piano wire and when it cools it will create a rubber stopper that will keep your wheel on!